A product description should not just be a bland list of a product's features.
After the price of an item, a product description is the second thing consumers look at to influence their buying decision.
Therefore, product descriptions should not just describe a product: they need to sell it as well. This requires some tact and some consideration to how users perceive your product. 
In this article, we are going to give some helpful tips on how to write product descriptions that not only showcase your product accurately, but also convert traffic into sales.
Use these tips to write product descriptions that convert:
1. Define your target audience and tailor the description to it
Before you begin your product description writing, define your buyer persona. This is a portrait of the type of person who is likely to buy and use your product. Make the persona as detailed as possible, including criteria like age, gender, generation, location, interests, education, income, values, etc.
For example, if your online retail store sells hiking boots, then you may be thinking mostly of millennials with solid income who prefer active, outdoor lifestyles.
Of course, those aren't the only people who use hiking boots, but your product description should be tailored to a specific segment within the multiple personas who are likely to buy hiking boots – the one that aligns most directly with your brand.
A product description can also depend on your persona's location, as in some countries active, outdoor lifestyles are much more popular with elderly people than with young adults. According to a recent report, millennials pay attention not only to technical characteristics, but also to style. At the same time, representatives of Generation X are more likely to choose the footwear that endures extreme conditions, and style is not that important to them.
So it is important to know about differences that are stipulated by age and location. It can really help you write product descriptions that convert. 
If you want to sell to millennials, focus on style over performance. If you're marketing to Gen Xers, write product descriptions that appeal to function and value over time.
This is a basic example, but it should get you in the right headspace to think about what matters in writing a product description.
2. Solve the buyer's problem
A product description should emphasize how your product will help your potential customers and improve their lives.
If we talk about hiking boots again, let's take a look at an example from the Salomon boots:
"This boot helps you get to the next campsite with happier feet," it reads.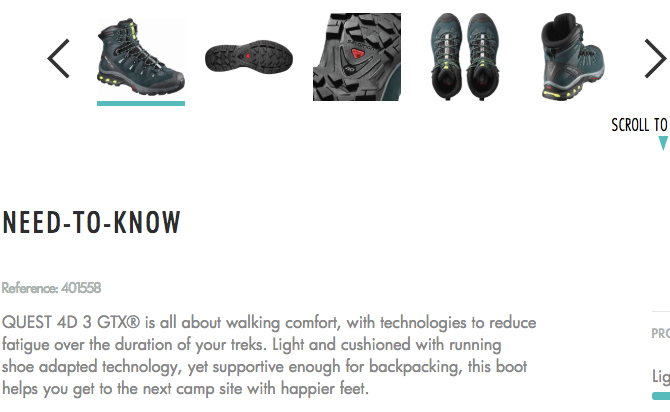 For people who are looking for hiking boots, comfort is an important consideration, as hikers can spend entire days on their feet and must be confident in what they are wearing. In Salomon's description, we can clearly see that the boots solve the problem of getting to the next campsite in comfort.
However, there is little focus on durability and instead the product is likened to running shoes, designed for performance and comfort. This boot is clearly marketing to a millennial persona, and doing so successfully.
3. Stay consistent with your brand's tone and voice
It would be weird if a brand that made high-end watches took a casual and playful tone in their product descriptions.
That doesn't match their persona – probably someone who is male, wealthy, cares about quality and wants to know the fine details that differentiate this product from its competitors.
Nailing this brand voice is one thing, keeping it consistent across an entire brand is a whole different beast. When writing product descriptions, it's important to stay consistent with the tone and voice of the rest of the website or other marketing materials. Set brand guidelines, and enforce them. Inconsistencies in brand voice turn off customers.
4. Improve the readability of the product descriptions
More than half of your website's visitors spend no more than 15 seconds on your site. Think about that. You often have less than a quarter of a minute to get someone to consider your product.
If you can't capture a visitor's attention within 15 seconds, you won't sell anything. One way to get out ahead of this is to improve the readability of your descriptions by making the copy easily scannable.
The best way to do so is to use bullet points, headings, subheadings and short paragraphs. A good example of this kind of product copy is this description of the Apple Watch, where each benefit is written with big font, appearing as you scroll the page.
5. Appeal to the visitor's imagination with sensory words
One way to write great product descriptions is to address the five human senses to make the visitor imagine that they already have this product.
Sensory words work especially well with food and perfume retailers. For example, check out this awesome example of product descriptions from Lindt chocolate, which is famous for unusual flavors:
"Opposites attract in this sweet meets sharp partnership, as delicate honey-flavoured cocoa contrasts with the surprising bite of mineral-rich Fleur de Sel sea salt, to deliver a clean, sensuous mouthfeel and delightfully intense dark chocolate experience."

6. Make your product description a mini story
If you include a story of your brand into a product description, visitors will forget that the product is being sold to them and thus will become more engaged.
You can include information about when the product was created, what inspired the creators, what challenges they overcame, etc. A product description example from Tiffany jewelry illustrates how to incorporate these short stories.
Check out this story of The Tiffany Setting engagement ring: "Charles Lewis Tiffany recognized that an exceptional diamond should be heralded rather than hidden. So we handcrafted a ring with a diamond so rare, it deserved to be lifted above the band. In so doing, we created something not just brilliant, but legendary: the engagement ring as we know it today."

7. Use power words
Research shows that specific words in product descriptions are more likely to sell the product.
Here are some of them:
introducing
announcing
amazing
stunning
revolutionary
sensational
But be careful with these words and use them wisely. Too many power words will make the copy sound too "salesy".
Another powerful word is … "you".
This word will help you to focus your copy on the reader and make it personalized. Use this word more often than your brand and product names.
8. Include product reviews and testimonials
Reviews from real people add more credibility to a brand, that's why many online stores include product reviews in their product descriptions. Some clothing brands ask their customers to add product photos to their reviews, e.g. a photo wearing a clothing item.
Some beauty brands, like beauty box manufacturers, send free samples of their products to popular bloggers who can share their experience with their audience. Other brands, typically B2B companies, add case studies that share stories about how their customers decided to use the product, and which business-related problems it solved.
Such interactions with people are called social proof and are a great tool for building a brand's reputation. Therefore, it is a great idea to include these experiences in a product description, either as a text or video.
9. Do not forget about pictures and media
Sometimes a picture speaks a thousand words, and this saying is also relevant to product descriptions. Your visitors will hardly notice a product without an image, so feel free to add high-quality, vivid images and videos that demonstrate the design and physical appearance of the product.
10. Optimize your product description for search engines
Do some research and incorporate the appropriate keywords into product descriptions so that your website will be more visible in search engines. Incorporate the keywords in page titles, bullet points, meta descriptions, and alt tags of the images as well. 
11. Stick with a single description template.
To keep your descriptions unified and consistent, adhere to the same format for each product. Your returning visitors and customers will recognize the layout, and it will be more convenient for them to skim through the page. You can test several templates to find out which one works best.
Now You Know How To Write Product Descriptions
Now you know how to write a product description that sells, so it is time to put this knowledge into practice.
We wish you success in reaching your target audience and hope that your compelling product descriptions will bring you a lot of loyal customers.
When you have those loyal customers, you need to make sure that your inventory management system is optimized to serve them all efficiently. That's where Dynamic Inventory can help. Get in touch to learn how our inventory management software can help your business thrive.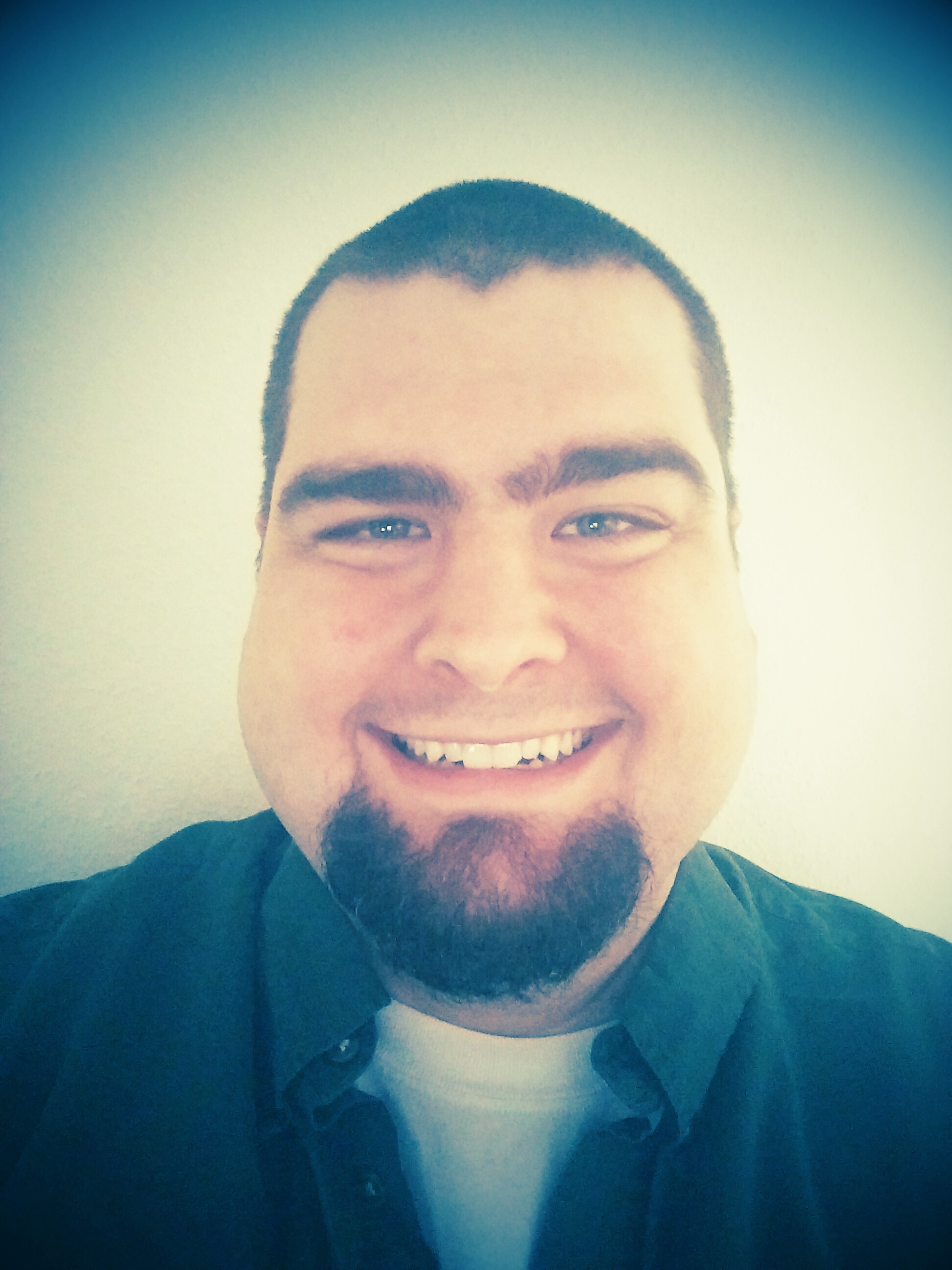 Adam is the Assistant Director of Operations at Dynamic Inventory. He has experience working with retailers in various industries including sporting goods, automotive parts, outdoor equipment, and more. His background is in e-commerce internet marketing and he has helped design the requirements for many features in Dynamic Inventory based on his expertise managing and marketing products online.