Product Information Management
Dynamic Inventory allows you to capture all product details and elegantly organize your products into categories that make sense for your business.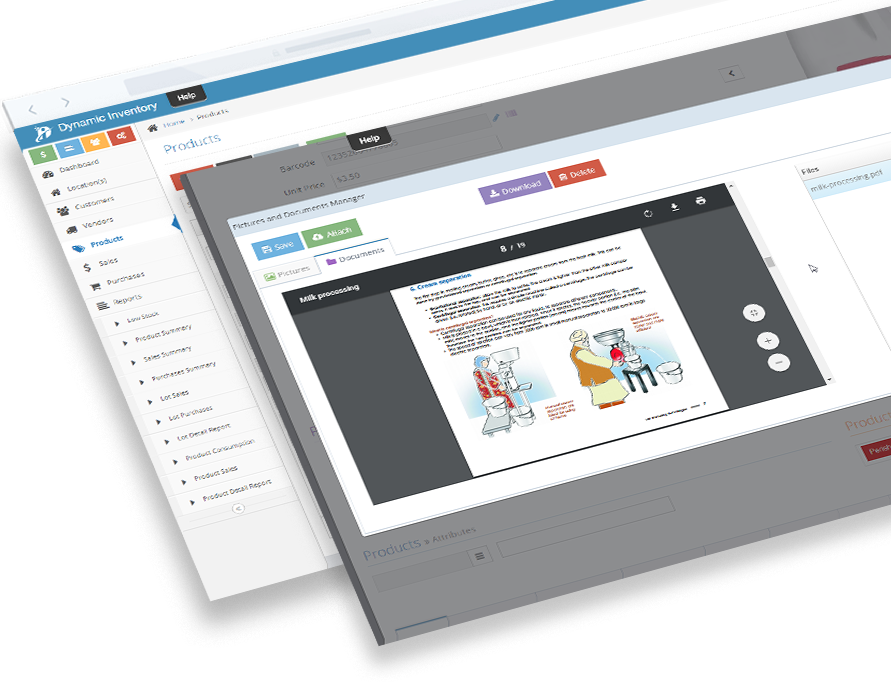 Are you overwhelmed by how many items are moving in and out of your organization? Changing seasons, new product lines, map pricing, subtle differences in characteristics and cost history are some of the challenges you might have already faced when trying to manage your product lines. Dynamic Inventory allows you to capture all product details and elegantly organize your products into categories that make sense for your business. There's nothing more crippling to an organization's success than bad data. Our team has done all the heavily lifting in designing a sophisticated product information management system for your business. The concept of "no stone will be left unturned" is apparent when you first glance at the product detail screen in Dynamic Inventory. Product information can be captured in one of several ways. To ensure that all products are accurately accounted for and can be quickly referenced, we recommend pre-defining all needed custom fields, tags, attributes and application labels by using the administrative section. This way, once you begin adding products, these options will already be available to assign to the products.
What Is Product Data Management?
The data you collect for products you purchase, sell or track is used to make informed decisions during the life of the product – this is known as product data management.
Product Details
The product name, identification numbers (SKU, Barcode, UPC), size, weight and description are some of the most common details to capture. We take it a step further with custom fields and attributes.
Pricing
It's necessary to differentiate customer and vendor pricing from the default pricing scheme. Our system is flexible enough to capture all pricing scenarios.
Cost
Tracking cost over time is often neglected by fast growing businesses. We make it easy to keep up with costs as you perform your daily operations, which helps you improve your profit margins with ease.
Features To Enhance The Product Life Cycle
Sell more and make better purchasing decisions with features to help make decisions from your data.
Benefits Of Dynamic Inventory Product Information:
Several Product Types Including Bundles, Lots, and Variants
Each product type has it's own set of conditions on how it's used throughout the system. Link or group products with other products, define prices based on groups,and get granular with lot/batch/serial numbers.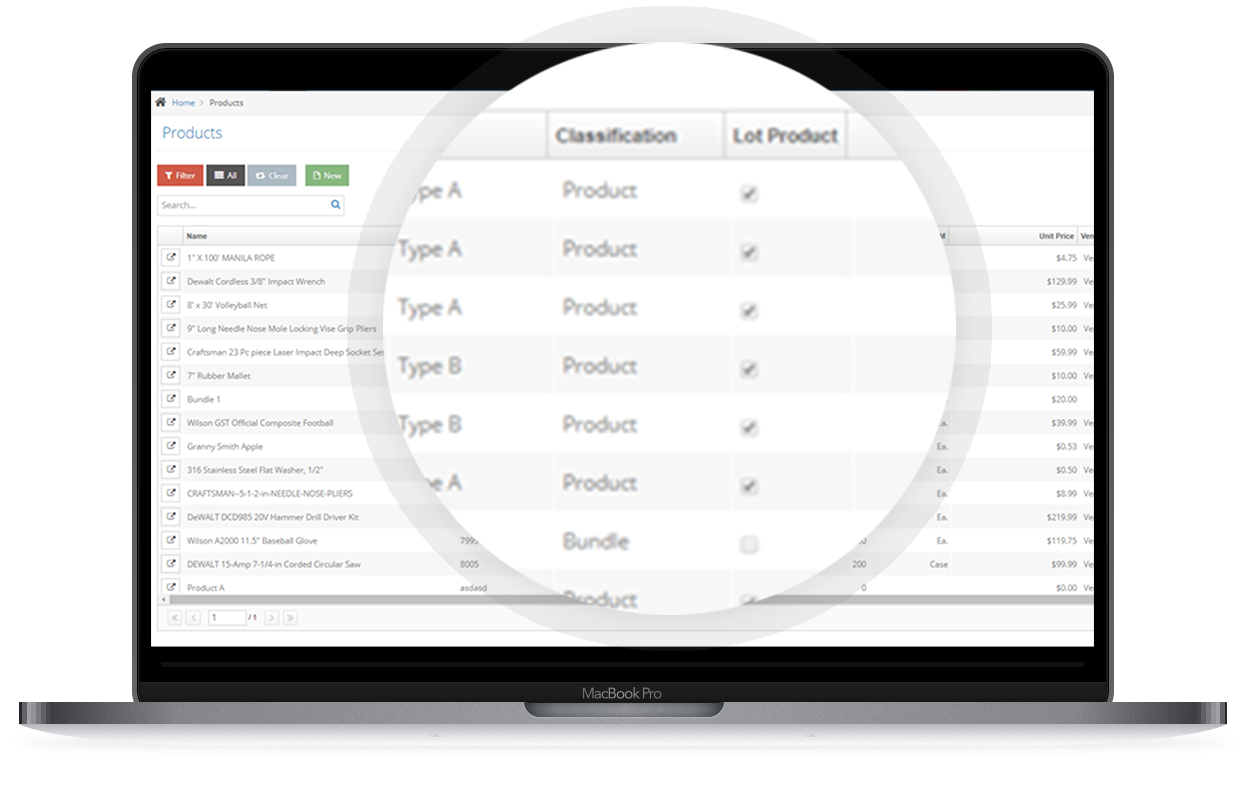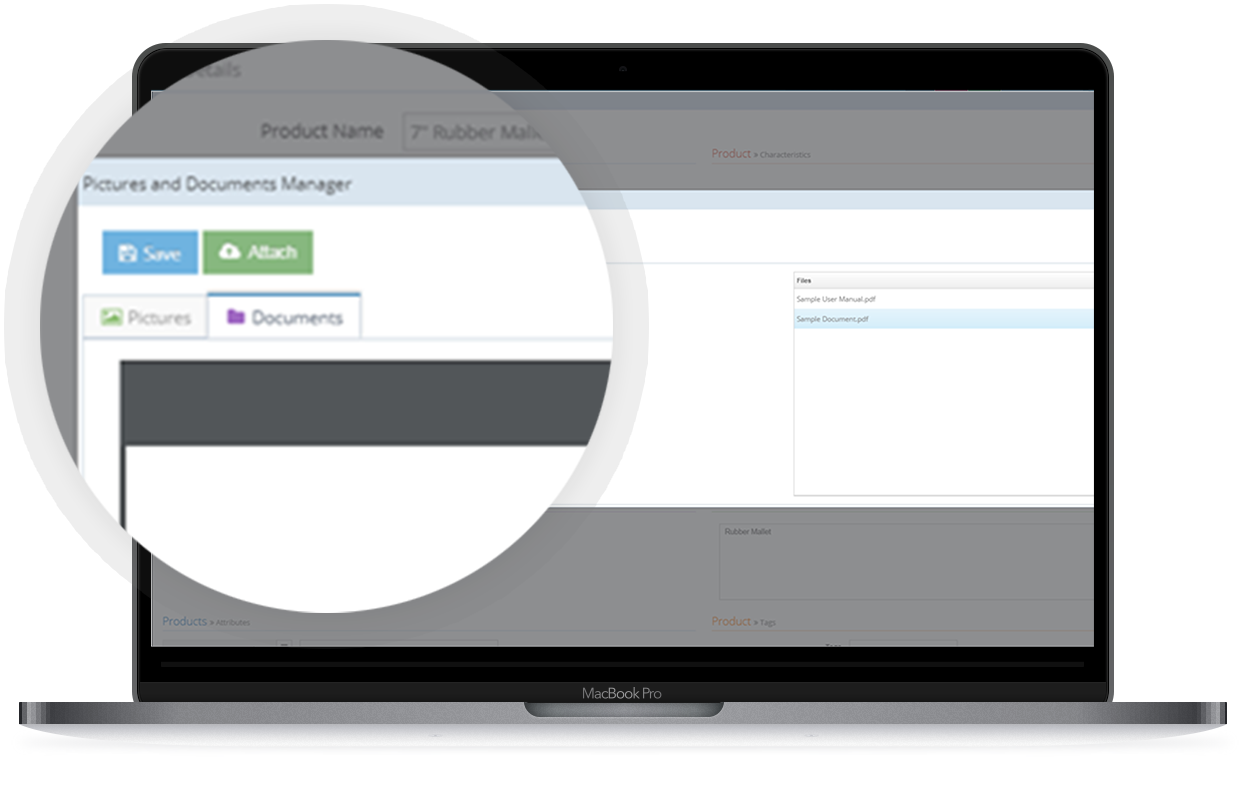 Attach Product Manuals, Images, and More
Give your team the data it needs to get the job done fast. PDFs and images can be assigned to products to simplify product identification and overall service.
Conveniently Research Order History
All sales and purchase orders that include a specific product can be viewed from the product details screen. There is no need to leave the product screen to get the information you're looking for.


Calculations Done For You
Some of the complex product calculations we keep track of for you include total cost, average cost, stock levels, reserved for sale and on purchase order.
Pause Products From Being Sold/Purchased
Use the active/inactive feature to disable products temporarily, or indefinitely for archiving purposes. If the data is no longer important to you, deleting products from the system is an option as well.

What Is A PDM Tool?
PDM is short for Product Data Management. An effective PDM Tool will streamline the process of capturing electronic information about a product along with aiding the user in managing these products. The type of data you are able to collect allows you to effectively manage large sets of data. Dynamic Inventory's approach to PDM is two-fold. First, we allow users to capture text, financial, images, documents and many other forms of data. Second, we have designed our system to allow several product types for more organized views and management. Add either a single product, a variant (a product related to another existing product) or a bundle (group of similar products) with ease. Save time entering products with a fluid product detail screen that is shared across all product types. Add all product details to ensure positive identification without having to read a manual. Dynamic Inventory's PDM is intuitive, and simplicity is taken into consideration with every new feature we develop.
It's really easy to figure out how to operate. I jumped in and learned no problem. Specifically the order process is laid out very nicely in sort of a wizard fashion that helps prevent mistakes which I like a lot. Also the customization options are one of the main selling points for me.

Tammy Becker Tammy's Country Cafe

I like that I'm instantly reminded to purchase tires when my stock fell below a certain threshold. I thought it was really cool that I could set the the threshold for each individual tire line I sell. Smart thinking!

Nate Diaz Brookside Tires

Custom Fields and Tags solved all my problems. The support team was very responsive to my questions.

Jerry Westinghouse Houston Computer Parts
Product Module Features In Dynamic Inventory
Search and Filter Multiple filters including status, order, location, customer, and date. Sort by quote total, invoice total, payments, and fulfillment phase. Search across text added to notes on the sales order.
Custom Fields and Attributes Define custom fields to be used as placeholders for text that needs to be captured across all products. Additionally, define attributes like color/size/material to be captured on specific products.
Tags Define labels and colors using tags to more quickly identify which sales orders need attention from the main search screen.
Bundles, Lots, Variants Define labels and colors using tags to more quickly identify which products need attention from the main search screen.
Locations View a list of locations where the product resides with real-time in-stock quantity for each. Assign the stores/locations/sub-locations where a product can be moved to.
Stock Adjustments and Transfers For times when the sale or purchase of product isn't going to work, or stock levels need to be adjusted due to shrinkage/damage/expiration, we have you covered. Adjust or transfer stock in just a few clicks.
Cost History Determining the average cost or total cost of a product is no longer a challenge. Utilize our cost capturing feature, and this data will be at your fingertips.
Import Product Data Do you have a list of product data in Excel? Do you need a template for creating your product data? Both of these situations are remedied with our product import feature. There's even an option to overwrite data on existing products to mass update them.
Product Detail Reports View/sort/filter products using the product summary, lot detail, product detail and product consumption reports. All reports can be printed, emailed or exported to Excel.
Frequently Asked Questions