Inventory Management Software System
Our inventory management software allows users to efficiently track the exact location and stock levels of your products in real time.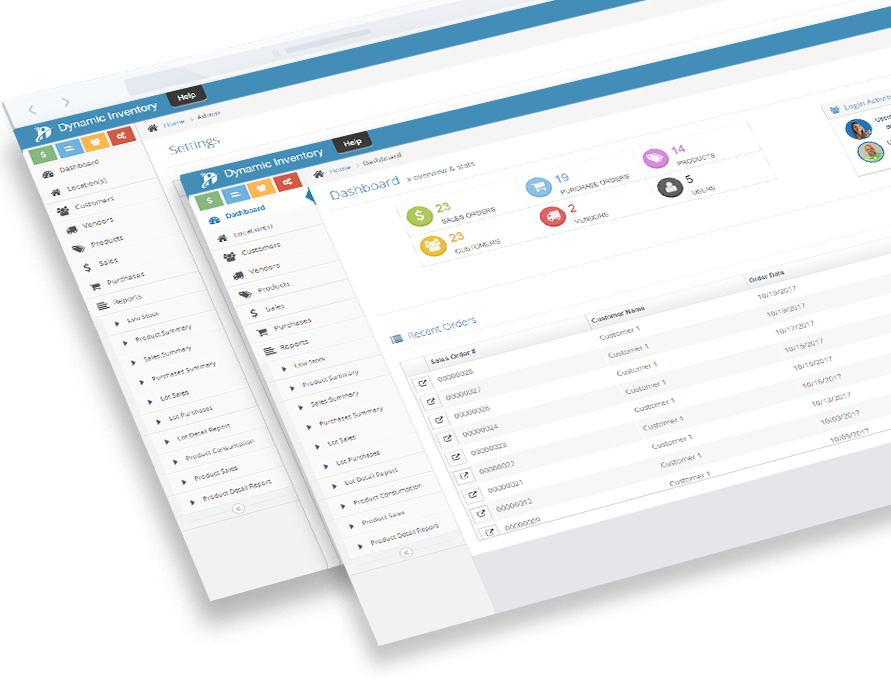 At Dynamic Inventory, we understand that the biggest challenge for business owners is not being able to fulfill orders due to a miscalculation of inventory levels. Our inventory management software allows users to efficiently track the exact location and stock levels of your products in real time. Our team has developed a state-of-the-art inventory management system that will help streamline your processes and increase efficiency in your daily operations. We offer a powerful, user-friendly inventory control software solution designed specifically with small to midsize companies in mind. Our inventory management solution is cost-effective and solves many common problems that only expensive enterprise-level solutions have solved in the past. Need a state-of-the-art inventory management system for inventory control and manufacturing? Dynamic Inventory allows companies like yours to efficiently track their inventory, products, vendors, purchase orders and sales orders.
What Is An Inventory Management System?
Inventory management is the process of ensuring that adequate stock levels are maintained to avoid interruptions in a business's day-to-day operations. Businesses manage their inventory around the clock as they purchase new products and ship orders to customers. It is essential for companies to have a simple, effective inventory management tool to help facilitate and streamline their day-to-day inventory processes. The pillars of a successful inventory management system include the following:
Inventory Levels
The total quantity of a specific item or product that is in-stock at a specific location. When you look up an item in our software it will prominently display the total in-stock quantity on the product details screen.
Orders
A record that authorizes the sale or purchase of specific items for a specific customer or from a specific vendor. You are able to place sales orders, and/or purchase orders within our software and process them to affect stock levels.
Product Identification
A means of uniquely identifying a specific item or group of items. Within Dynamic Inventory you are able to identify products using SKU, barcode, name, or custom fields.
Out Of The Box Features
Drill down into some of our more popular features, but keep in mind we have the ability to customize the software for your needs.
Benefits of Choosing Dynamic Inventory as Your Inventory Control System
Make Informed Decisions
For businesses, every aspect of the company generating a profit depends on having sufficient inventory on hand. Dynamic Inventory allows users to make informed decisions based on real-time data from the software, through a wide range of built-in reports. Our Inventory Control System will provide you with the tools to accurately forecast future sales by giving you a snapshot of past sales performances.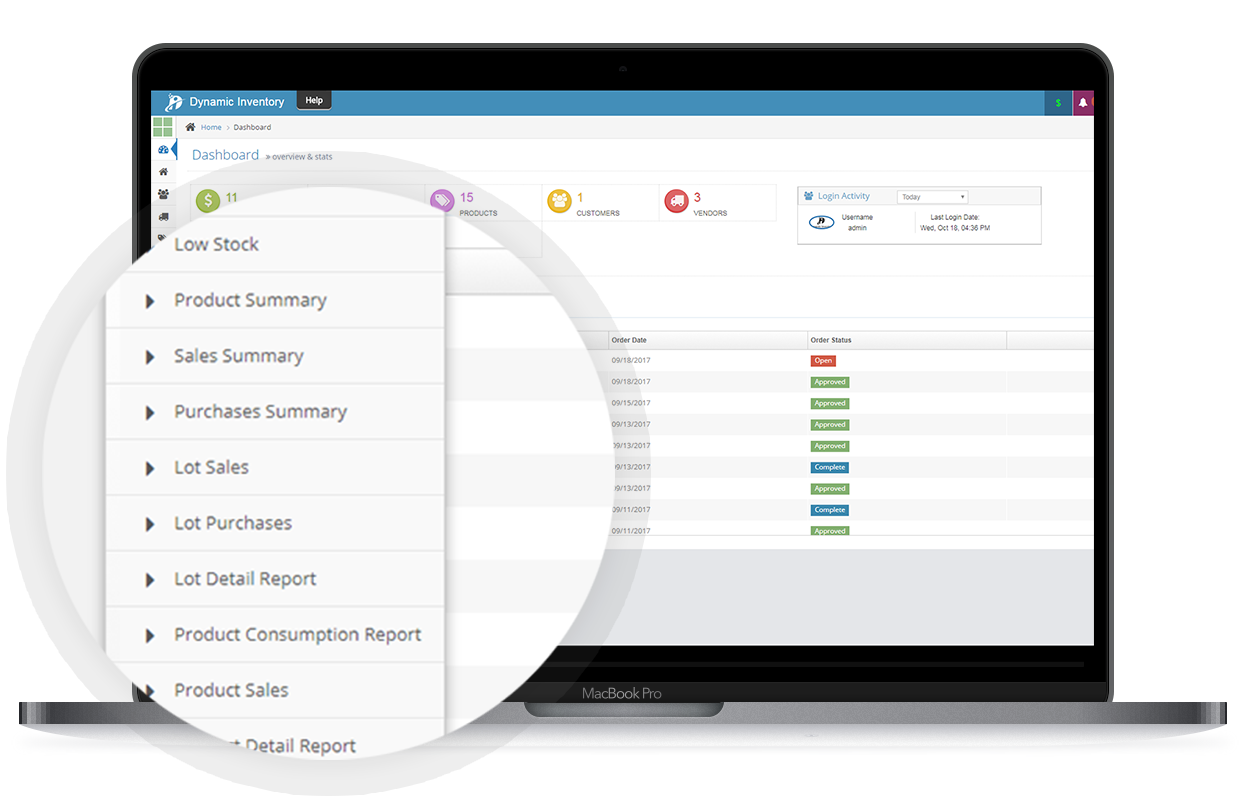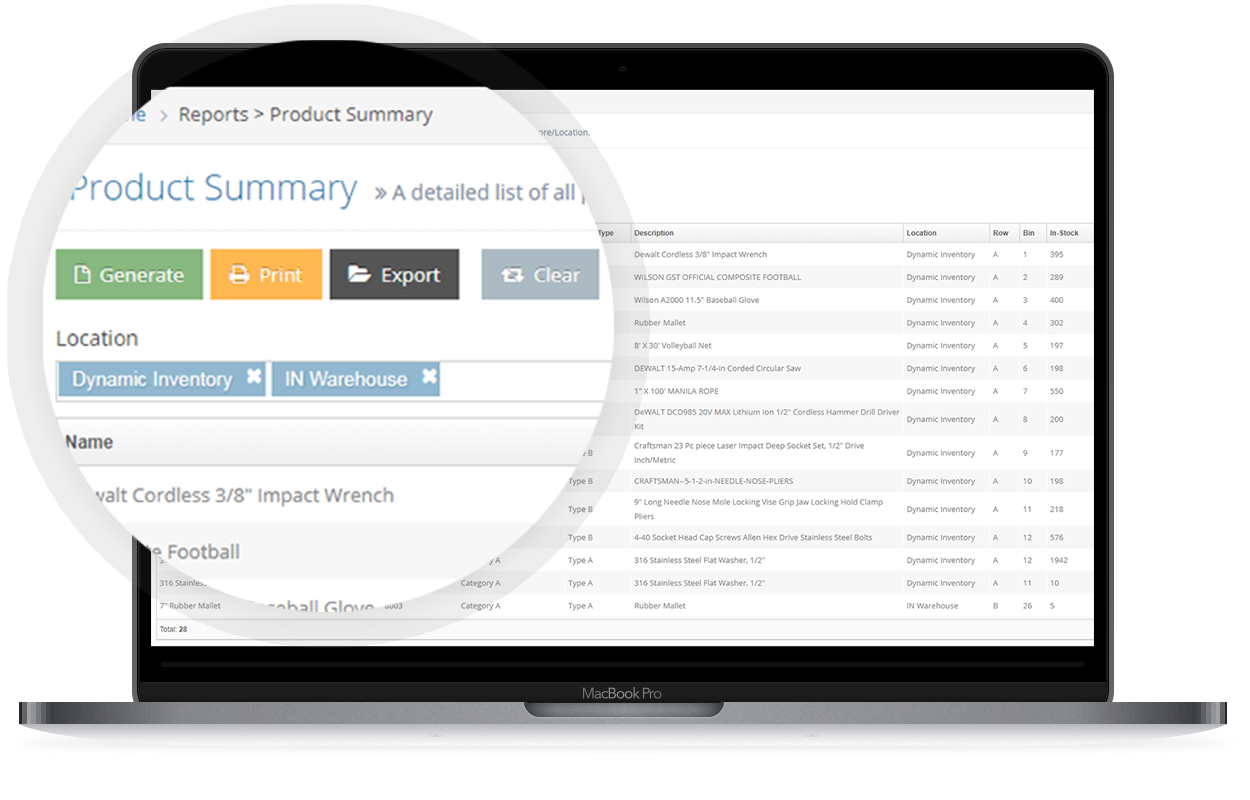 Increase Efficiency and Productivity
Our Inventory Management System will help Increase efficiency and productivity by reducing the amount of time spent on routine and complex tasks. Dynamic Inventory has a user-friendly interface that allows users to report, search and input data as well as manage inventory with a click of a button.
Improve Accuracy of Sales and Purchase Orders
Improve accuracy of sales and purchase orders by using our powerful Order Management System. Dynamic Inventory allows users to reserve available stock across multiple locations to ensure customer demands are met.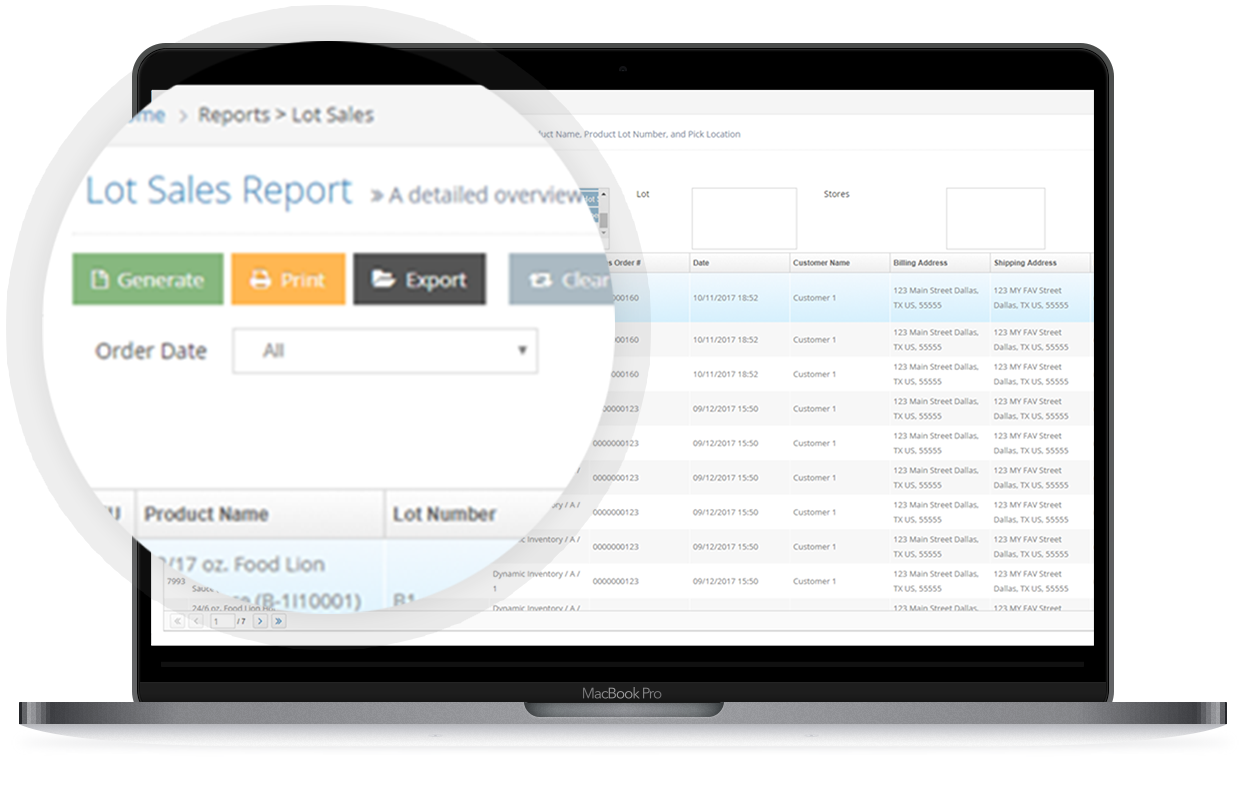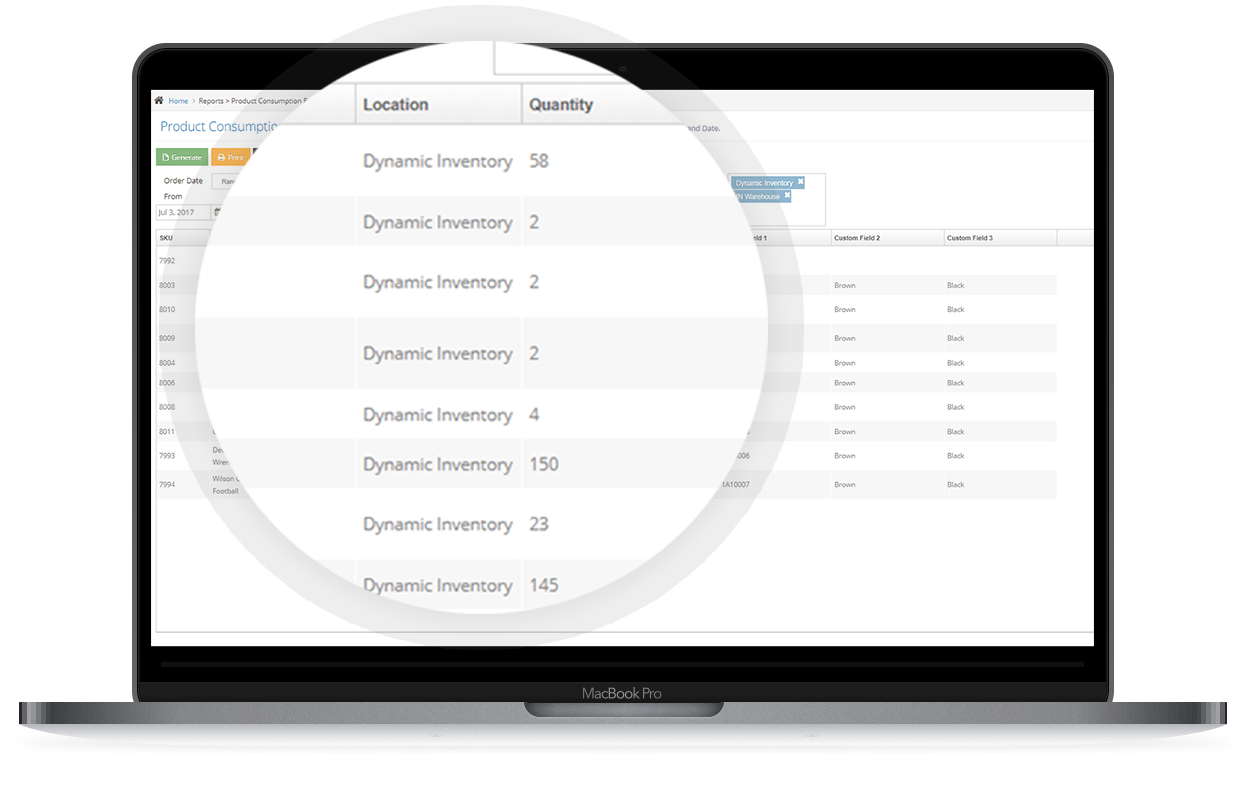 Track Inventory across Multiple Locations
As companies expand into multiple branches, business owners need to be able to keep track of inventory levels at each location. Dynamic Inventory has powerful multiple location tracking model that allows users to monitor inventory levels across multiple locations.
Avoid Running Out of Stock
Avoid Running out of Stock by utilizing our Low-Stock Alerts to notify you when products fall below your desired threshold. Users will also have access to our Low Stock report, which gives you a breakdown of all items that replenishing and can be broken down by location.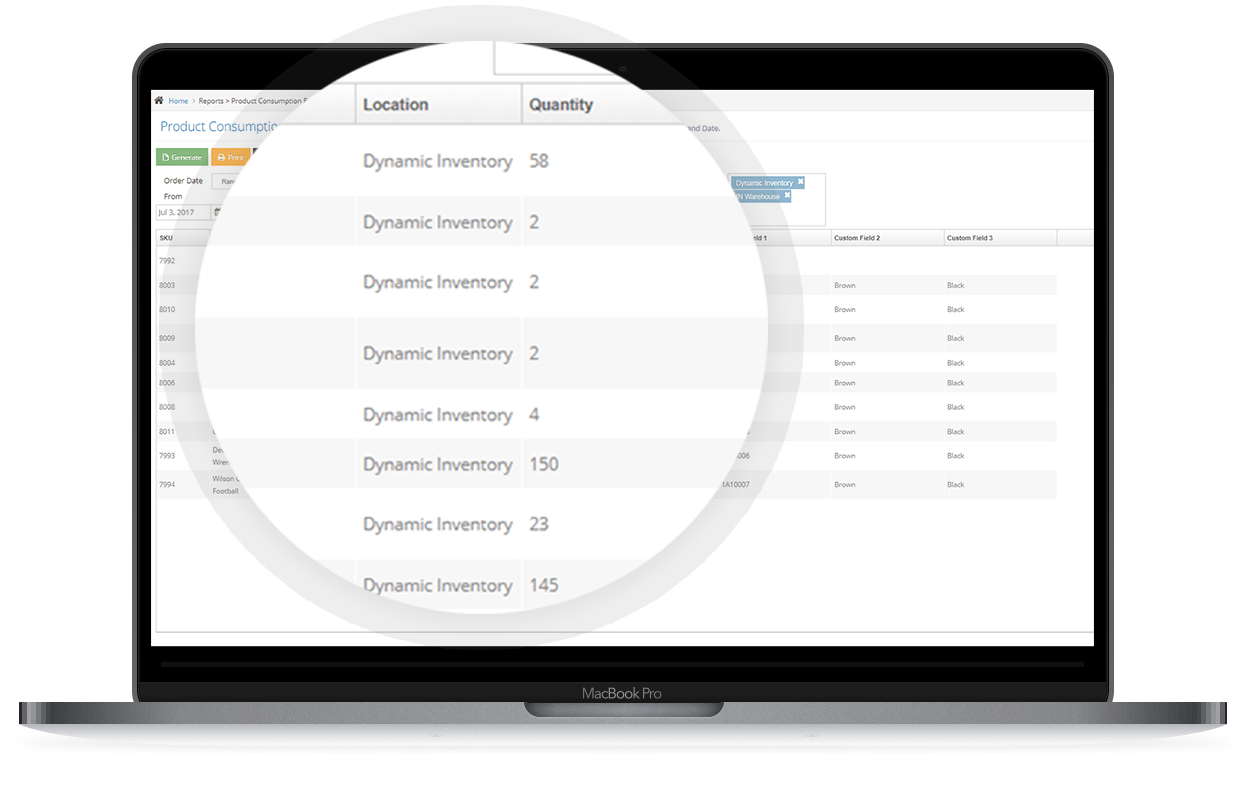 Reduce Risk by Properly Managing Product Recalls
Dynamic Inventory provides users with access to track the exact location of products by Lot Numbers, Batch Numbers, and Serial Numbers. This feature becomes extremely helpful if you need to facilitate a product recall for a batch of products.
How Inventory Management Systems Work
Imagine you are shopping at your favorite store. As you walk down the aisles, you are presented with products, organized by categories, on shelves, with prices that change from day to day. Have you ever wondered what determines the location of each item at these stores? Inventory Management Systems work by organizing all the different products an organization owns, and providing data about these items to customers and managers of the organization. At the core of an inventory management system is a product. This product has attributes that define it, including size, shape, cost, price, quantity, etc. These attributes are used to make informed decisions by product owners, customers and even vendors. Some attributes like identifiers and names are static and help to communicate just what the product is. . Other attributes like cost, price, quantity are dynamic and in constant fluctuation for thriving businesses. Inventory Management Software is simply a means of organizing all this product data efficiently with the goal of providing insights about it.
It's really easy to figure out how to operate. I jumped in and learned no problem. Specifically the order process is laid out very nicely in sort of a wizard fashion that helps prevent mistakes which I like a lot. Also the customization options are one of the main selling points for me.

Tammy Becker Tammy's Country Cafe

I like that I'm instantly reminded to purchase tires when my stock fell below a certain threshold. I thought it was really cool that I could set the the threshold for each individual tire line I sell. Smart thinking!

Nate Diaz Brookside Tires

Custom Fields and Tags solved all my problems. The support team was very responsive to my questions.

Jerry Westinghouse Houston Computer Parts
When To Use Dynamic Inventory Management Software
Here are some of the many features included in our Inventory Management System:
Barcoding Add, edit, and scan barcodes to quickly update your product database without having to remember or type out long identifiers.
Product Management Full product management including stock adjustments, stock transfers, cost tracking, unit of measure, bundles/kits, attach images/documents, custom fields, and tags. Import existing list of products with granular tracking of lot, batch, and serial numbers.
Inventory Tracking Add multiple locations including stores, locations, and sub-locations to visually see your inventory at each. Track which location has what items, and run reports against the stock adjustments and in-stock quantities.
Purchase Orders Create purchase orders and receive products to automatically adjust stock levels. Track financial data including credits, bills, and payments.
Sales Orders Create sales orders and fulfill products to automatically adjust stock levels. Track financial data including credits, invoices, tax, freight, and payments.
Customer Management A basic CRM system for keeping up with customers with all sales orders conveniently grouped and viewable. Define customer pricing for specific products.
Vendor Management Drill down into each vendor to see all purchase orders placed against them. Define vendor pricing for each product associated to a specific vendor.
Dynamic Reports Numerous built-in reporting options including order printouts, low stock, and product/sales/purchase details. All reports can be emailed from system.
Low Stock Alerts Define low stock thresholds for each product location, and trigger alerts automatically when the product falls below the threshold.
User Permissions Total Control over viewing, editing, and deleting within each module. Assign the consignment role to provide limited access for consigner-only data.
Audit Log Continuous tracking of user actions and activity with ability to filter on specific modules or actions by date.
Frequently Asked Questions