Vendor Management Software
With Dynamic Inventory's simple-to-use interface, managing vendors and suppliers has never been easier.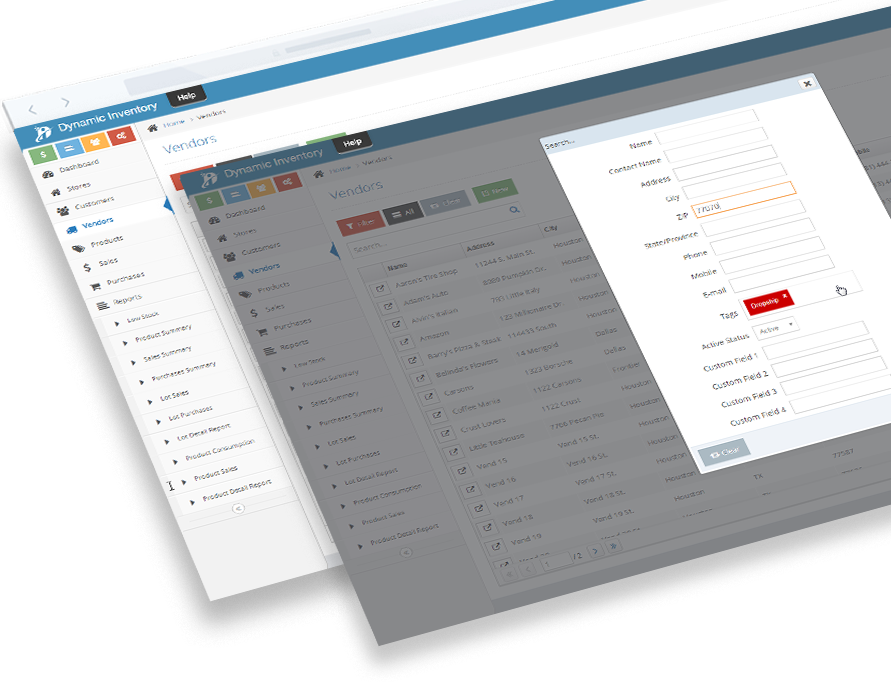 With Dynamic Inventory's simple-to-use interface, managing vendors and suppliers has never been easier. Keep track of all your suppliers in one database. Structure your supplier records in a way that allows only users to place orders for the products a vendor sells. Reduce the amount of time it takes to comb through all the products in your database, and prevents you mistakenly ordering the wrong one. We take the guesswork out of wondering where your shipments are, and when they are arriving. Research and view purchase details from the vendor details screen. View prices the vendor has charged you for products in the past as well. Keeping up with vendors shouldn't be a chore, which is why we designed the vendor module to minimize your efforts and maximum return on time invested.
What Is Supplier Relationship Management (SRM)?
Managing supplier relationships begins with managing products effectively. Suppliers provide products, and products are obtained through purchases. These three objects are tied together through the cycle known as supplier relationship management or SRM. Fostering trust with your suppliers over time is the key to advance your business. Qualities of a result-producing SRM are as follows.
Visibility
Not all vendors are created equal. Visualizing all suppliers at a glance, or through more sophisticated search and filtering is paramount in knowing which suppliers are really working "with" you.
Compliance
Recording details such as federal employee identification numbers, licenses and background checks can help to make sure you are working with legitimate vendors that won't take advantage of your business.
Performance
Past purchases should be evaluated to give valuable insights into what vendors are giving you a positive ROI.
Features To Keep You On Track
Discover the many features that compliment vendor and inventory management.
Benefits Of Our Vendor Management System:
Record payment terms, carrier, and taxing schemes for vendors
Select payment terms for your vendors to ensure prompt and accurate payments. Set multiple tax rates for vendors for multiple locations or states as needed. Choose and assign a carrier (FedEx, DHL, UPS, etc.) to your vendors.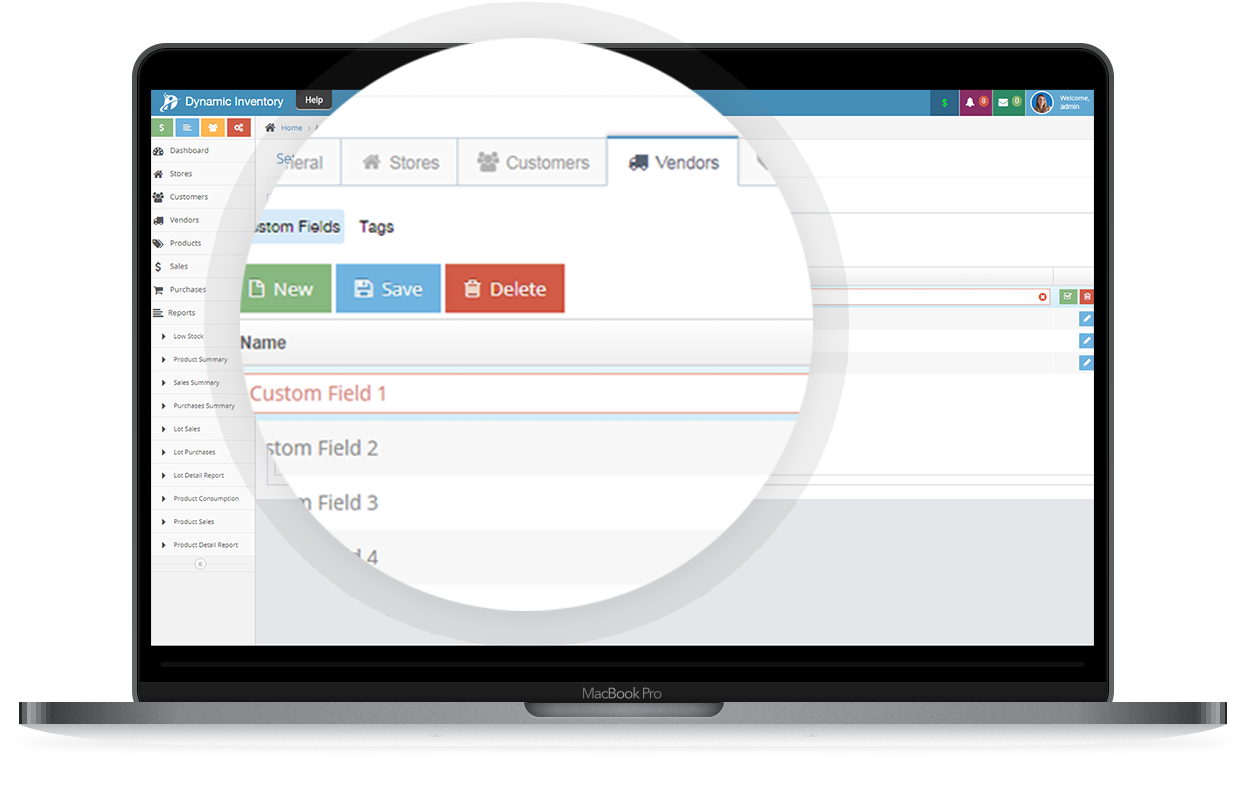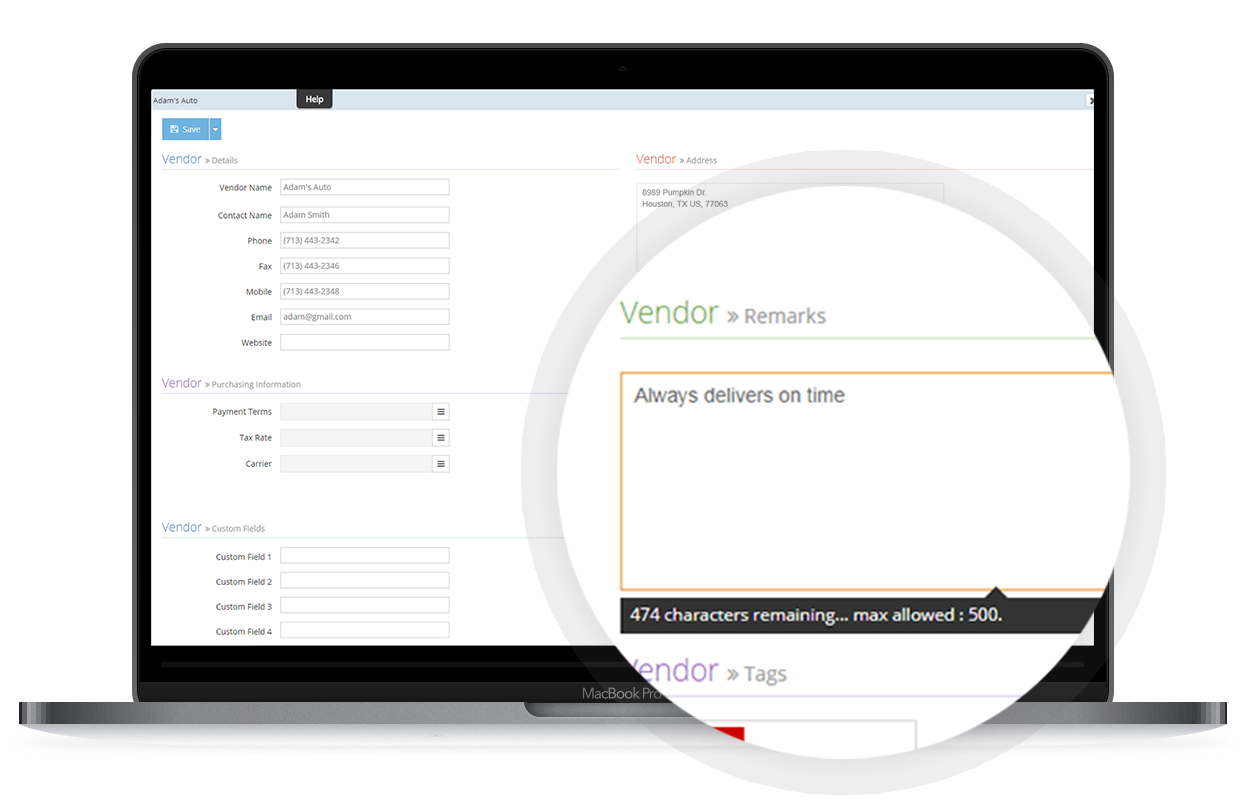 Leave notes and remarks for vendors
Add remarks to your vendors and make sure they are delivering on their promises to you. Remarks are a great way to make note of product requests, historical sales and the best ways to get in touch.
Add custom colored tags for vendors that need to be watched
Custom color coding allows your buyers to see which suppliers are reliable, and which ones they need to look out for. Color coding allows you to prioritize vendors at a glance, without having to look at the finer details.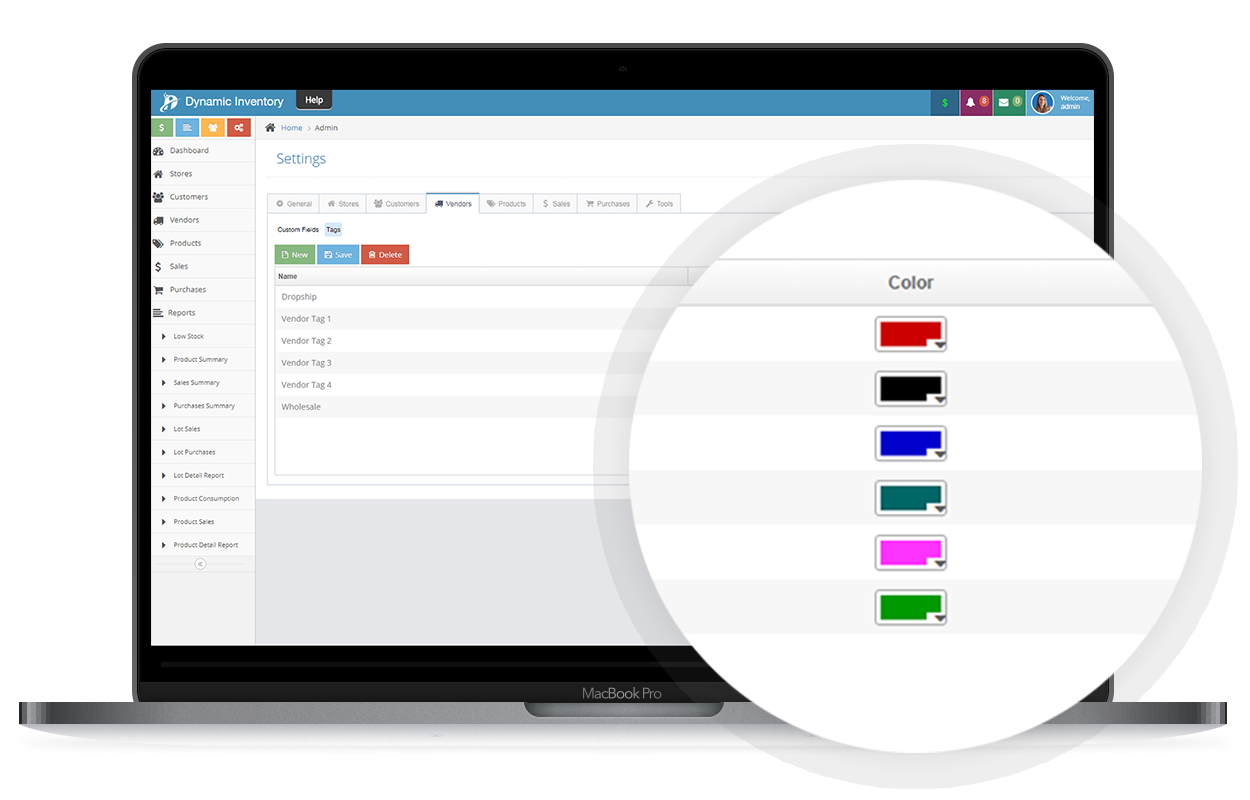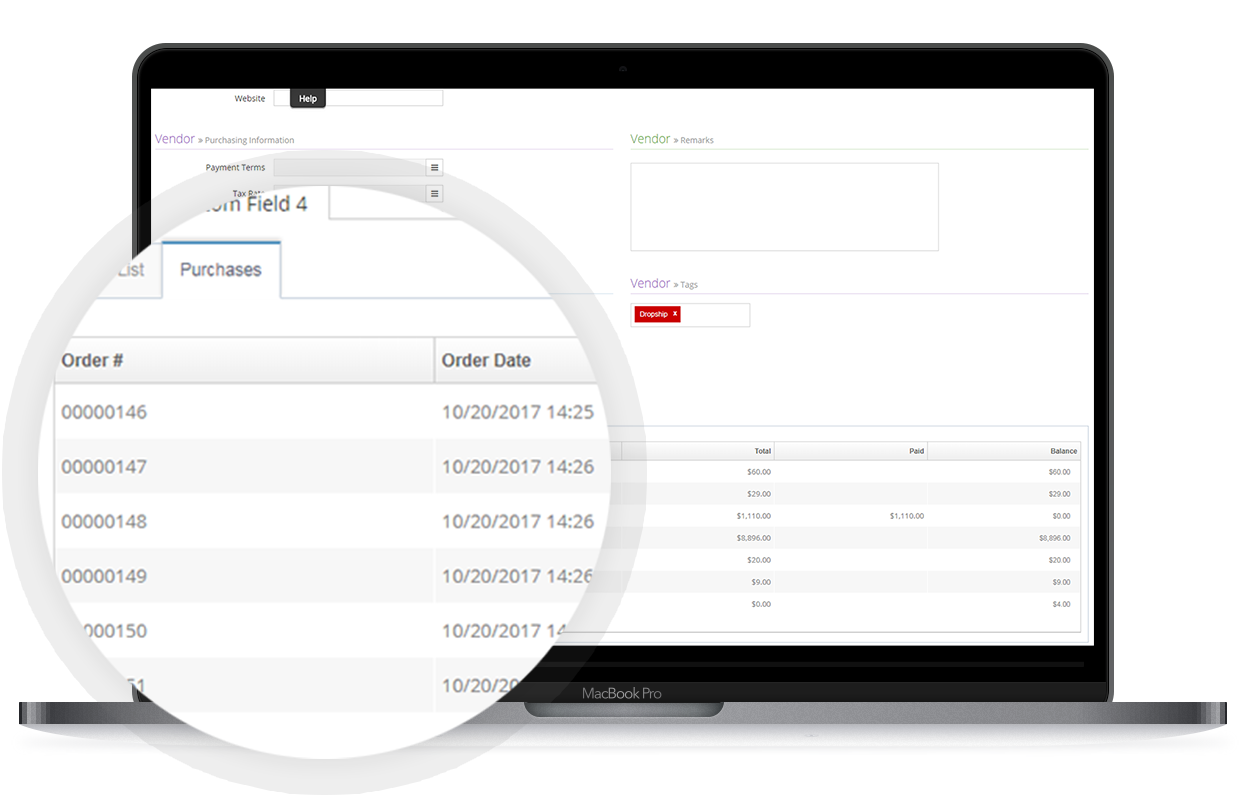 View a history of the purchase orders related to a vendor
Get real-time purchase order status in less than three clicks. Order history is indefinite, and stores securely in the database. See the total of each purchase as well as all payments and balances. Retrieve an order from history for easy accounting and auditing.
What Are Vendor Management Services?
Dynamic Inventory improves communication between supplier and buyer. Don't get stuck in an automated nightmare while placing orders over the phone with your suppliers. Dynamic Inventory gives you all the details about a supplier before you place an order. Utilize the experience of current and former team members that have left important details about a vendor in the database. Contact the supplier representative that has historically worked the best with you. Accurate record-keeping maintains the relationship needed to keep everyone happy and at ease. Vendor relationship management avoids a lot of headaches and confusion that can be costly to your bottom line. Optimize your supplier relationships by re-ordering at the lowest price, or strategically place orders based on discounts received in the past.
It's really easy to figure out how to operate. I jumped in and learned no problem. Specifically the order process is laid out very nicely in sort of a wizard fashion that helps prevent mistakes which I like a lot. Also the customization options are one of the main selling points for me.

Tammy Becker Tammy's Country Cafe

I like that I'm instantly reminded to purchase tires when my stock fell below a certain threshold. I thought it was really cool that I could set the the threshold for each individual tire line I sell. Smart thinking!

Nate Diaz Brookside Tires

Custom Fields and Tags solved all my problems. The support team was very responsive to my questions.

Jerry Westinghouse Houston Computer Parts
Features Of Dynamic Inventory's Vendor Management Tool
Search and Filter Multiple filters including status, order, location, customer, and date. Sort by quote total, invoice total, payments, and fulfillment phase. Search across text added to notes on the sales order.
Custom Fields Define custom fields to be used as placeholders for text that needs to be captured across all sales.
Tags Define labels and colors using tags to more quickly identify which sales orders need attention from the main search screen.
Notes Record notes describing communication that has taken place with each supplier for better purchasing decisions.
Segment Products Define which products are sold by which vendor at what price. Record the vendor's unique identifier for easy reference.
Purchases History View a list of all purchase orders that have been placed through the vendor, and the order total. Open the purchase order right from the vendor record.
Active/Inactive Disable vendors that you no longer do business with, or that you want to prevent buyers from placing purchases against. Reactivate them at your convenience.
Vendor Reports View/sort/filter on purchases by location/status/date using the purchases summary report. All reports can be printed, emailed or exported to Excel.
Frequently Asked Questions