Sales Order Management Software
The Dynamic Inventory team has developed a user friendly Sales Order Management system that will help streamline your Sales and Order Fulfillment processes.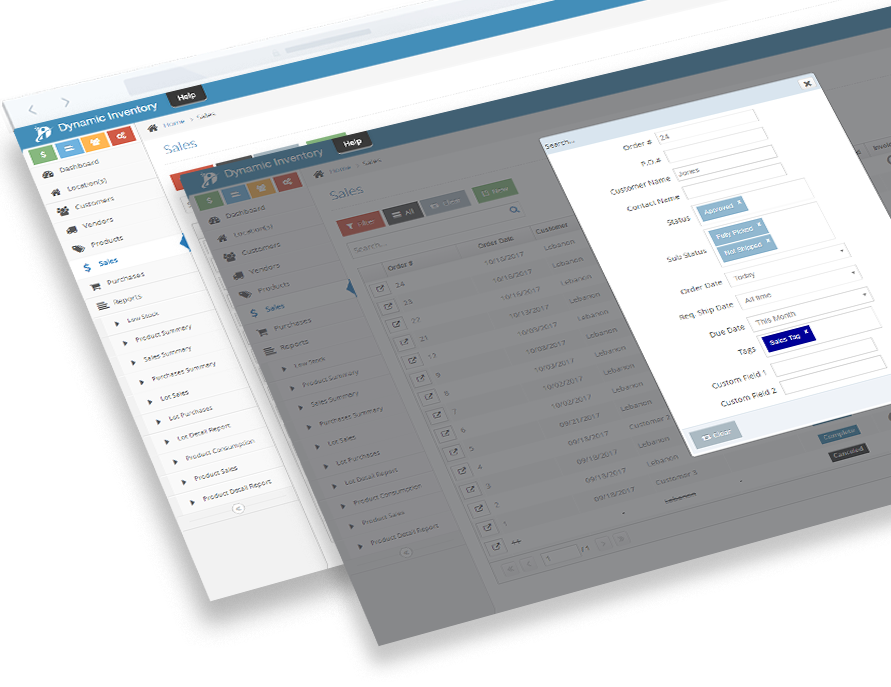 At Dynamic Inventory, we understand that accuracy and efficiency play a pivotal role in an organization's daily sales operations. The Dynamic Inventory team has developed a user friendly Sales Order Management system that will help streamline your Sales and Order Fulfillment processes. Our Sales Order Management system was designed to help companies spend less time entering sales orders and more time generating new sales. Sales orders are created by customer service representatives to track customer purchases. The sales process is typically the first experience a customer has with your organization, and first impressions count. The time and place where this transaction occurs is referred to as the Point of Sale or POS for short. The approved sales order initiates a fulfillment workflow that moves through picking, packing, and often shipping the products. Payment for the sale is either collected upfront or immediately after fulfilling the order. The document used to track the financial responsibility of the customer to the organization is called an Invoice. It's important to understand this workflow before setting up your sales order management system, so that orders efficiently move from Open to Complete. Dynamic Inventory is a powerful, user-friendly inventory control software solution designed specifically with small to mid-size companies in mind. Our Sales Order Management system is cost-effective and solves many common problems that only expensive enterprise-level solutions have solved in the past.
What Is A Sales Order?
A sales order can be defined as a record that tracks the sale of products from an organization to a customer at an agreed upon price. There are several documents used in conjunction with tracking this record including: Sales Order, Pick List, and Sales Invoice.
Sales Order
The order document that details products, prices, discounts, credits and quantities requested from a single customer. Often a sales quote is created before a customer is ready for a more official sales order. You are able to print, or email these documents within Dynamic Inventory.
Pick List
A document that displays an organized list of items ready to be picked from specific locations within the organization based on the requested sales order. If the customer requests the organization ship these items a packing slip will be generated after the items are picked and placed into boxes. You are able to print, or email these documents within Dynamic Inventory.
Sales Invoice
A financial document that indicates what the organization has sold to the customer with details on products, prices, discounts, credits, and quantities. A receipt may be requested from the customer once payments are made against the invoice. You are able to print, or email these documents within Dynamic Inventory.
Additional Features Of Interest
The software comes with many helpful modules and features that compliment the sales order process.
Benefits of Dynamic Inventory's Sales Order Management System:
 Dynamic Inventory barcode scanning software is a must-have for modern inventory management operations, and here are the reasons why:
Generate Quotes Before The Sale
Setup a quote, and work through the negotiations with your customers before creating a full-blown order. Easily autofill the information from the quote when your customer is ready to pull the trigger.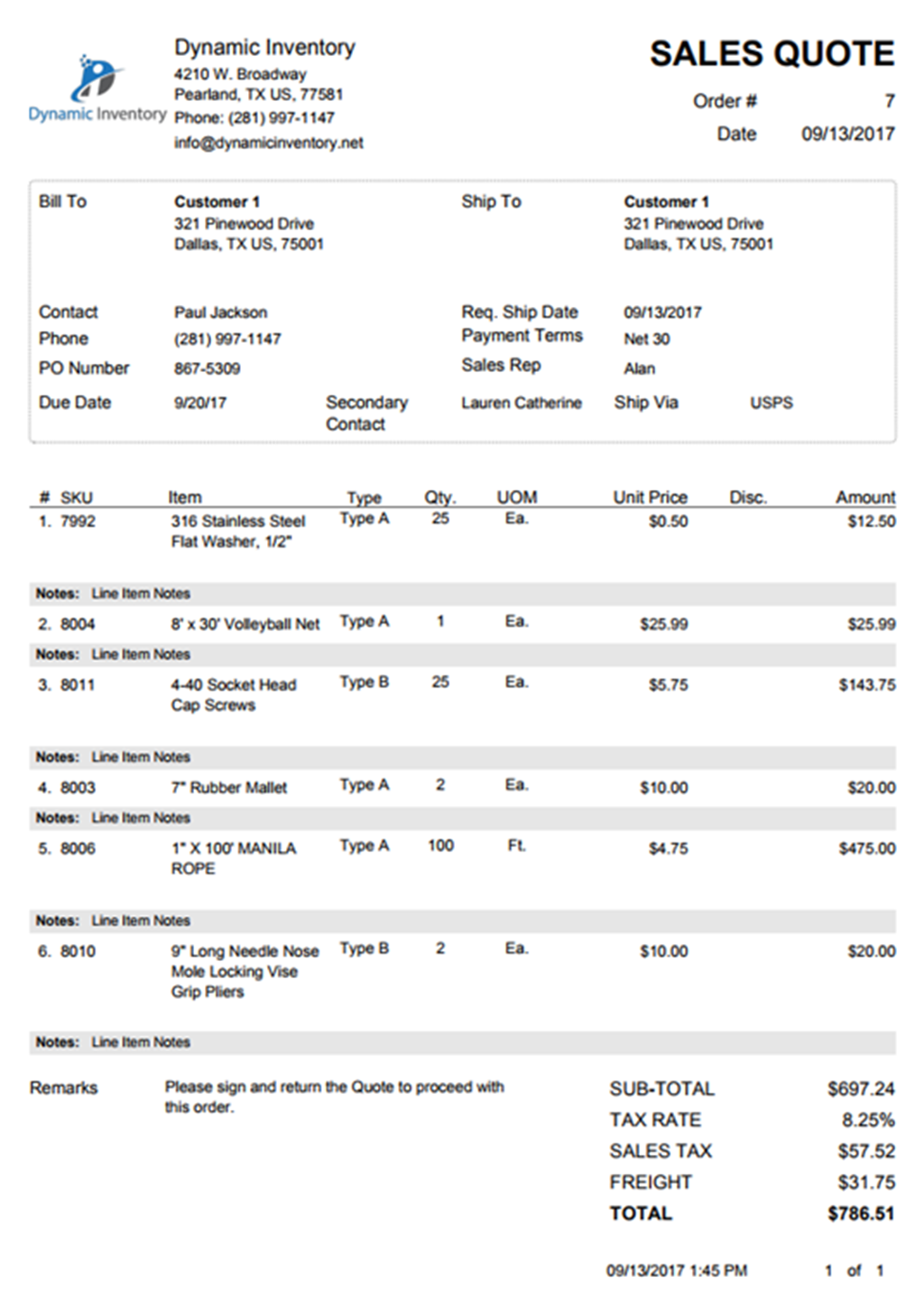 Comprehensive Credits and Discounts
Our Point of Sales (POS) system will allow users to define line item specific and/or total order credits based on ($) dollar amounts or percentages. If you have complex discounts we've got you covered.
Apply Customer Pricing Schemes Automatically
The order fulfillment process plays a key role in the speed at which an order can be completed. We've implemented options for shipping an order vs. picking up in-store along with separating out the picking/packing/shipping of the order to streamline the entire fulfillment process.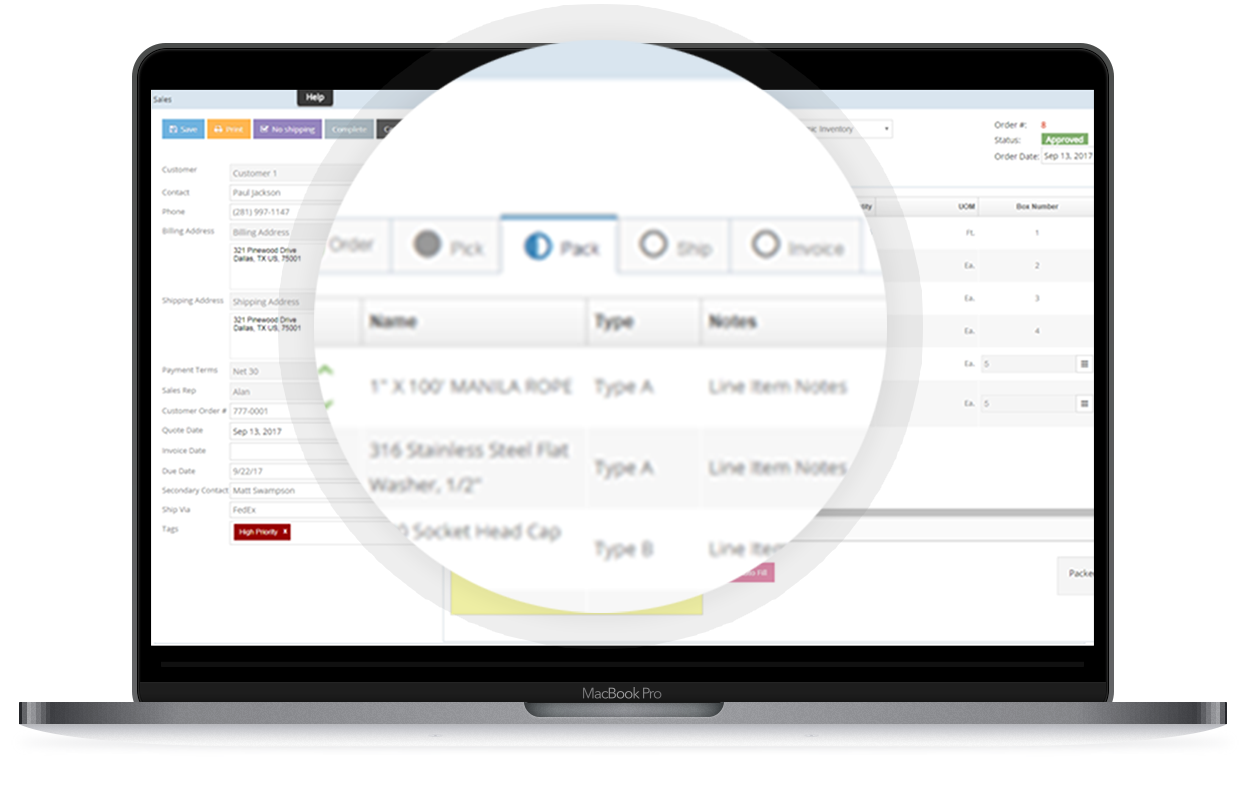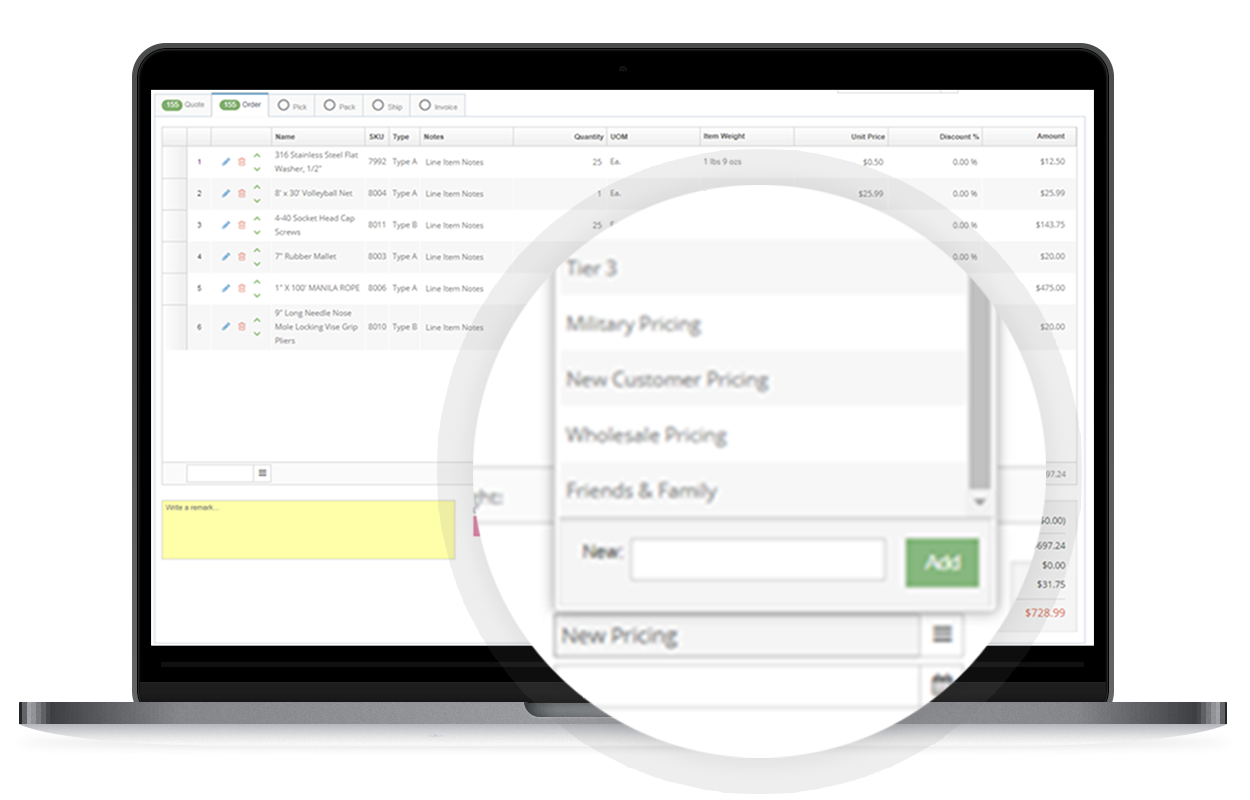 Multiple Tracking Options
We've enabled users with options to track the exact location of products by Lot Numbers, Batch Numbers, and Serial Numbers. This feature becomes extremely helpful if you need to facilitate a product recall for a group of similar products.
Report On Sales By Location and Forecasting
View stock levels across multiple locations to ensure customer demands are met, and accurately forecast future sales by viewing a snapshot of past sales performance.

What Is Point of Sales?
POS is the three letter acronym for point of sale(s). A cash register is a very good example of a simple POS. The time and place where retail transactions occur are at the register, but it all depends on the business you operate. Registers have evolved over time into mature hardware/software combinations such as kiosks/terminals. Some sales take place online as well, where the website or web application is the POS. Dynamic Inventory is a web application that features a way to capture sales for products from customers. The Sales Order module within our system functions as the Point of Sale. We understand that the process at the point of selling the customer should be quick and painless. Customer Service or Sales Reps could be holding conversations while they enter the sale. All these factors have been considered during development, and our software expedites the initial order capture in the smoothest way possible. Throw that old cash register away you don't need it anymore!
It's really easy to figure out how to operate. I jumped in and learned no problem. Specifically the order process is laid out very nicely in sort of a wizard fashion that helps prevent mistakes which I like a lot. Also the customization options are one of the main selling points for me.

Tammy Becker Tammy's Country Cafe

I like that I'm instantly reminded to purchase tires when my stock fell below a certain threshold. I thought it was really cool that I could set the the threshold for each individual tire line I sell. Smart thinking!

Nate Diaz Brookside Tires

Custom Fields and Tags solved all my problems. The support team was very responsive to my questions.

Jerry Westinghouse Houston Computer Parts
Point of Sales Features in Dynamic Inventory
Churn out sales orders in no time with our lightning fast sales order process.
Search and Filter Multiple filters including status, order, location, customer, and date. Sort by quote total, invoice total, payments, and fulfillment phase. Search across text added to notes on the sales order.
Custom Fields Define custom fields to be used as placeholders for text that needs to be captured across all sales.
Tags Define labels and colors using tags to more quickly identify which sales orders need attention from the main search screen.
Fulfillment and Payment Phases We have implemented a way to observe which sales orders have not been picked, packed, shipped, invoiced, or paid; partially picked, packed, shipped, invoiced, or paid; fully picked, packed, shipped, invoiced, or paid. Inspired by phases of the moon (empty, half, full, etc).
Location Specific Accounting At point of sale, choose to associate a store as the financial bucket for the order, and report on all sales made with reference to that store. Additionally, fulfill products from specific locations within our system.
Order Print Outs Print or Email sales quotes, sales orders, pick lists, packing slips, invoices, and receipts.
Sales Reports View/sort/filter on sales by product, sales summary, and lot sales reports. All reports can be printed, emailed, or exported to Excel.
Frequently Asked Questions